Just Arrived
SUPERB Cb Baby/juv Ornate Uromastyx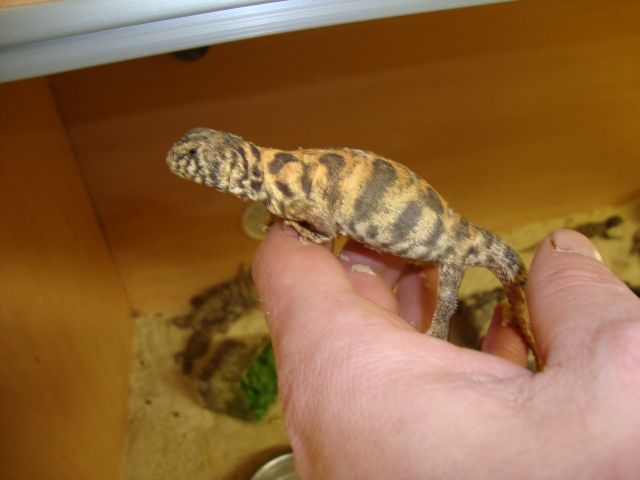 Our amazing range of QUALITY animals from Egypt
Awl-Headed snake LYTORHYNCHUS DIADEMA
Arabian cat snake TELESCOPUS DAHRA
Diced water snake NATRIX TESSELATA
Moilensis false cobra MALPOLON MOILENSIS (DWA KEEPERS ONLY)
Schokari Sand Racer PSAMMOPHIS SCHOKARI
Hissing sand snakes PSAMMOHIS SIBILANS
Flowered racer PLATYCEPS FLORULENTUS
Leopard Lizards acanthodactylus pardalis
Southern long tailed lizard LATASTIA LONGIACUDA
Berbers skinks EUMECES SCHNIEDERI
eyed skinks CHALCIDES OCELLATUS
Sandfish Large SCINCUS SCINCUS
Giant sandfish **NEW** SCINCUS FAYOUMENSIS
Brindled Skink TRACHYLEPIS VITTATA
Rainbow Skink TRACHYLEPIS QUINQUETANIATA
Painted Agama *very nice* LAUDAKIA BRACHYDACTYLA
ARYASH AGAMA LAUDAKIA S PIECA
Changeable Agama TRAPELUS MUTABILIS
Pale Agama TRAPELUS PALLIDUS
Sinai Agama TRAPELUS SINIATUS
Savigny's agama TRAPELUS SAVIGNEY
BLUE HEAD AGAMA PSEUDOTRAPELUS SINIATUS
Arabian Toad Headed Agama Phrynocephalus arabicus
Zarudnyi worm lizard Diplometopon zarudnyi
Qattara Gecko TARENTOLA MINDIAE
Rough-tailed bowfoot gecko CYRTOPODION SCABER
Dune Gecko STENODACTYLUS PERTII
Slevin's sand gecko STENODACTYLUS SILVINI
Northern Elegant Gecko STENODACTYLUS MAURITANICUS
Southern elegant gecko STENODACTYLUS . ST ELEGANS
Natterers Gecko TROPIOCOLOTES NATERERI
Steudners Gecko TROPIOCOLOTES STEUDNERI
Micro Gecko TROPIOCOLOTES BISHARICUS
Israeli Gold Scorpion SCORPIO MAURUS PALMATUS
Israeli Large claw scorpion SCORPIO MAURUS FUSCUS
Yellow Sun Spider GALEODIS GRANTI
Camel Spider GALEODES DESERTI
Huntsman Spider SPARASSIDAE SPP
Wolf Spider PARADOSA SPP
Siani Giant centipedes SCOLOPENDRA SPP
Centipedes SCOLOPENDRA SPP
Mole Crickets GRYLLOTOLPA SPP
Dung Beetles SCARABAEUS SACER
Giant Rhino Beetles COPRIS HISPANUS
Predator Beetles ANTHIA SEXGUTTATA
Domino Beetles ANTHIA DECEMACULATA
egyptian tarantula chaetopelma gracile
please note: not full range available in all our stores

We are being inundated with customers who are being advised from other companies that their animals do not require UV lighting as they are nocternal or basically just dont require it. (i.e. Leopard Geckos, Crested Geckos etc)
This is totally an untrue statement as all reptiles (and has been proven) require some type of uv to enhance growth and health.
We are always in discussions and regularly carry out our own tests instore to new products are suitable and do what is required of them.
if you have been wrongly advised please check the link for more and ALL the facts.
A Reminder to Customers: Reptile UV, The Facts
Surprise visitors to Perth,  Tom Halverson (left) reptile collector/expeditioner & Steve (Monitor mad) Foo from Tv series "Britains Strangest Pets"

Steve "Enjoyed the tour around thanks , you have some first class animals in stock , very impressed"
Tom
"Thanks for showing us around, and nice to meet you! Like Steve says; some very impressive and top quality animals in-store, well done:-)"
Available now

Made to order
Top Quality standard, Corner, Bow Fronted &
Stacked Vivariums
This range must be seen to be believed!!!!!!!!
Unbeatable Quality and Value for money
Trade available on full range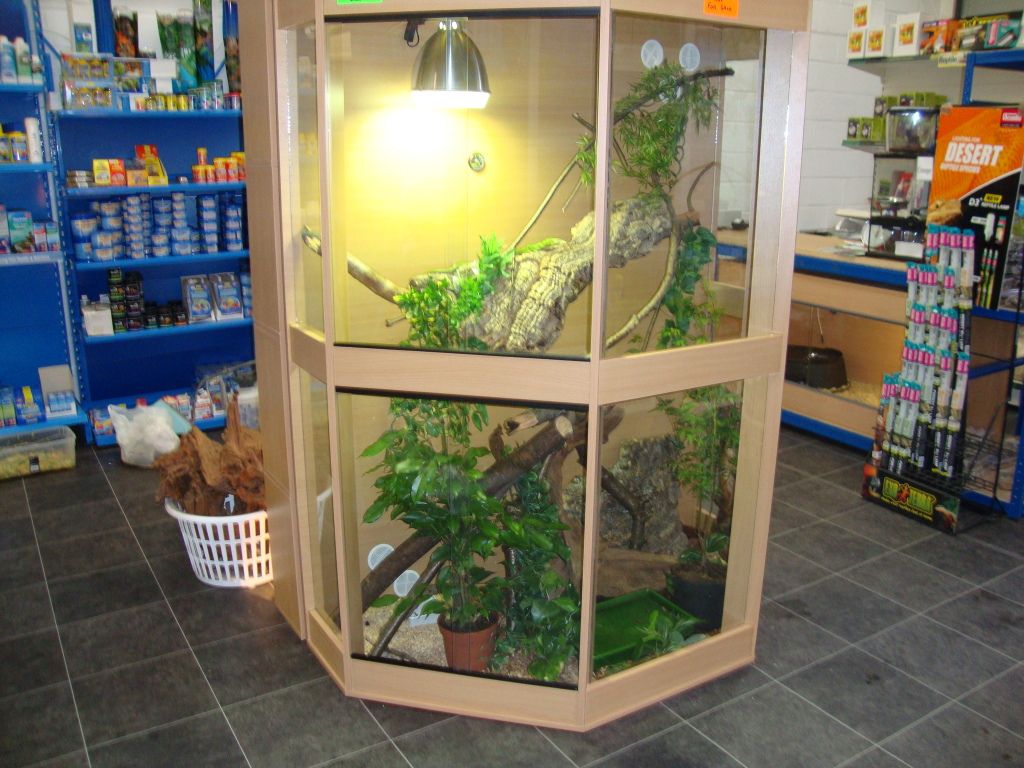 Massive Bow fronted
Vivariums 5ft wide
6ft tall and 2.5ft deep
Available for order

Arcadia have launched a brand new website, this will answer all our customers questions on the benefits of Proper Uv lighting as well as all the information on new products.



 

Arcadia Reptile are proud to announce the launch of our eagerly awaited new website.

 

 




Inside you will find groundbreaking science and new reptile lighting ideas and the very best technology that science can offer.

We are excited to launch the world's first comprehensive lighting database, product information, links to educational, interesting and forum websites, fantastic images and videos all feature heavily in what we think is the finest reptile keeping website available.

Arcadia reptile is taking reptile keeping to the next level, we hope that you will join us.
Click on link below

To help all our customers in these hard time we have made it our mission to bring prices down even further.
For starters we are reducing our livefood boxes (in multiples) without reducing our high Quality

this will allow you to get a great range of different livefoods for all your animals at even better prices.
remember this is not a promotion, just great prices from a company who value all our customers.
Follow us on Facebook
Are you paying too much for your reptiles? As per normal every item in our stores are keenly priced at all times and ARE the actual normal prices you should be paying and why our customers visit us time and time again.
why not join our facebook pages and get exclusive offers for all members
Perth Outlet
OPEN

(Around 1000sq/ft of exotics & Equipment)
NOW FULLY LICENCED

New Stocks arriving weekly, OPEN 7 DAYS

We are at:
Unit 15 St Catherines Road, Ladeside Business Park, Perth PH1 5RZ
(Behind Homebase)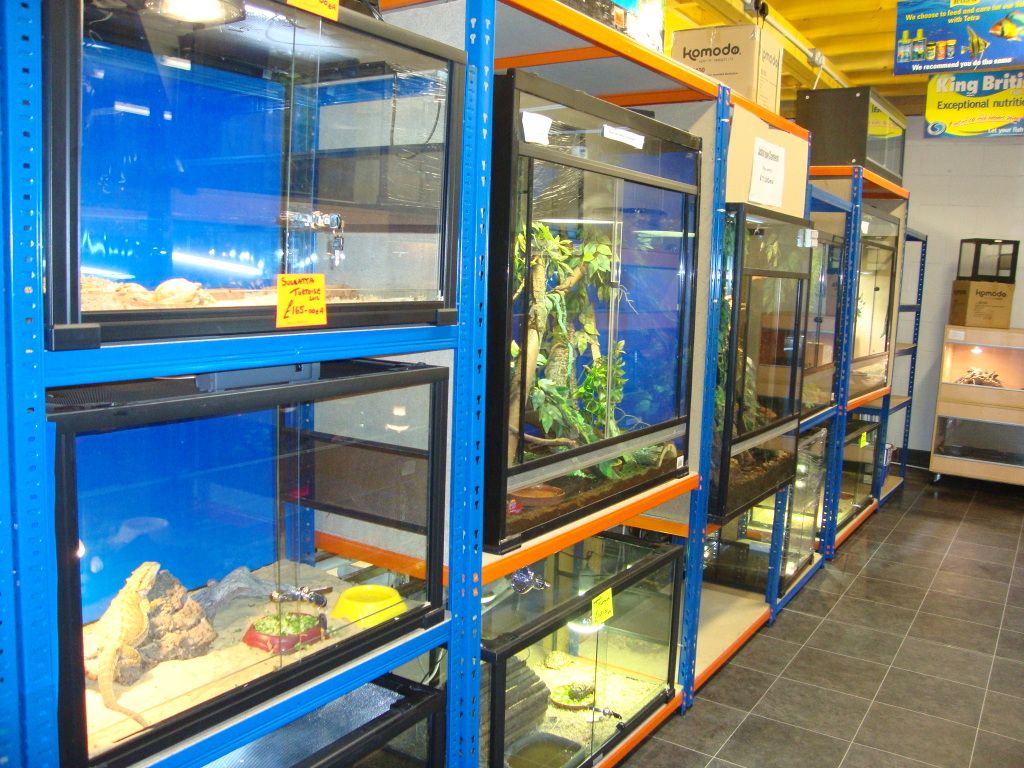 (opening times at the bottom of the page)
You can now contact the unit direct: This e-mail address is being protected from spambots. You need JavaScript enabled to view it
or call us : 01738 580048

We came 2nd runner up for the award of "Pet Specialist Outlet of the year*. This is a national award and we are proud to be nominated and are so pleased with the outcome as we constantly monitoring our standards up and above standard that are set out for this type of outlet/

We are one of the TOP outlets of this type within the UK for 2011. We thank our customers for their support, as without your support and confidence we would not be in this position. This is the very first time a Scottish company has ever been considered for this award.
With this recognition nationally, all our customers old and new know you can purchase from us at any of our stores with the knowledge and confidence that you will always receive a warm welcome with the advantage of receiving the correct information & advice at all times on every product & animal we supply.
AGAIN, WE THANK EVERYONE FOR THEIR SUPPORT
The Strictly Team

(more details are available in the "about us" section of the website
Plus Loads more in store, or checkout our online shop

We are Qualified to serve you
Above is our staff attending a reptile course held by Mark Amey one of the UK's top herpetologist/zoologists.
Our constant updating of our knowledge base for our staff ensures all our customers can Purchase from us with confidence.
Gift Vouchers now available in
setting the standards that our competitors try to follow!!!!!!